Feature & Follow Friday
Hosted by Parajunkee and Alison Can Read
The Feature and Follow is the premium BLOG HOP of Book Bloggers. Running for over five years, the Feature and Follow's goal is to promote the book blogging and author community to join together and support each other – even if it is just through a simple follow. The FF also promotes creative post options by offering interesting topics we can all talk about and comment on!
This week's prompt:
Best & Worst reads of 2016.
Which would you recommend and which you wouldn't?
---
WORST READ OF 2016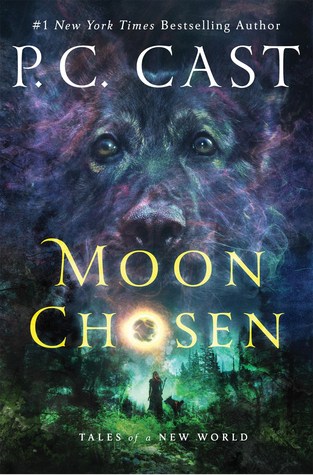 Moon Chosen (Tales of a New World #1) by P.C. Cast (Goodreads Author) | 3.85  ·  Rating Details ·  803 Ratings  ·  256 Reviews
Chosen to embrace her true identity. Chosen to follow her destiny. Chosen to change her world.
Mari is an Earth Walker, heir to the unique healing powers of her Clan, but she has been forced to turn from her duties, until she is chosen by a special animal ally, altering her destiny forever. When a deadly attack tears her world apart, Mari reveals the strength of her powers and the forbidden secret of her dual nature as she embarks on a mission to save herself and her people. It is not until Nik, the son of the leader from a rival, dominating Tribe, strays across her path that Mari experiences something she has never felt before…
Now evil is coming, and with it, a force more terrible and destructive than the world has ever seen, leaving Mari to cast the shadows from the earth. By breaking Clan Law and forming an alliance with Nik, she must make herself ready. Ready to save her people. Ready to save herself and Nik. Ready to embrace her true destiny…and battle the forces that threaten to destroy them all.
CHECK OUT MY REVIEW TO SEE WHY THIS WAS MY LEAST LIKED READ OF 2016
---
BEST READ OF 2016
My Kind of Wonderful (Cedar Ridge #2) by Jill Shalvis (Goodreads Author) | 4.1  ·  Rating Details ·  3,281 Ratings  ·  528 Reviews
UNEXPECTED AND UNDENIABLE…
Bailey Moore has an agenda: skiing in the Rockies, exploring castles in Europe, ballroom dancing in Argentina. Now that she has a second lease on life, she's determined not to miss a thing. What she doesn't realize is that item #1 comes with a six-foot-one ski god hot enough to melt a polar ice cap. She doesn't want to miss out on him either, but Hudson Kincaid isn't the type of guy to love and let go. And as gorgeous as Cedar Ridge is, she's not planning to stick around.
As head of ski patrol at his family's resort, Hud thinks he's seen it all. But never has he run into someone like Bailey. She might look delicate, but her attitude is all firecracker. And her infectious joy touches something deep within him that he's been missing far too long. Now he'll just have to convince Bailey to take a chance on her biggest adventure yet . . . something rare and all kinds of wonderful.
Jill Shalvis is one of my AUTO-BUY AUTHORS I love the characters she creates. Yes they may all be macho men and women looking for Mr Right but no two macho men are alike she weaves these characters in such away that they pull you heart-strings. She makes me want to pack up my stuff and move to some unknown place in America just on the off-chance I may find a real life Hudson.
So, Best & Worst reads of 2016. Which would you recommend and which you wouldn't? Whatever you think, comment below, let me know!
And as always, if you like what you've seen here and you want to see more, click right here to see more!"