The purpose of this meme is to share our book-haul, favourite books of the month, our reading progression, our principal posts in the past month, books that we discover and we'd like to read in the future and new movies and tv shows! We'd love to see more monthly discoveries and updates on other blogs
  CHECK OUT THEIR PREVIOUS POSTS!
This Month's Reads: Wow this month has been productive! I've managed to read 13/150 books for Goodreads Challenge 2017. Which I think is a pretty good start to the year. I'm still not sure how I'm going to keep up with all of my challenges but I'm giving it a good go!
This Month's Planned Reads: Just missing Dear Jane, The One Memory of Flora Banks & Not So Perfect from my January reads to finish it off. Bit of a shame it won't be for January but they are top of my February list 🙂
Upcoming Reviews: 
---
Best of the Bunch is a monthly linkup where we can share the best books we read each month and award one of them "Best of the Bunch." This blog hop originated at Lyrical Reviews and then moved over to Always Lost in Stories. At the end of 2014, hosting was handed over to A Cocoon of Books.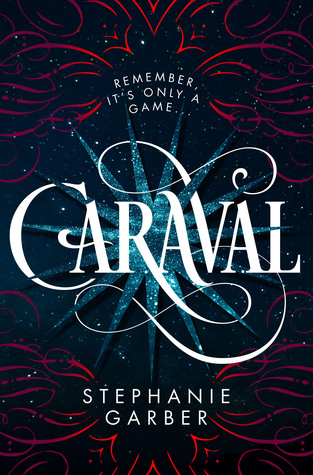 Caraval (Caraval #1) by Stephanie Garber
Welcome to Caraval, where nothing is quite what it seems.
Scarlett has never left the tiny isle of Trisda, pining from afar for the wonder of Caraval, a once-a-year week-long performance where the audience participates in the show.

Caraval is Magic. Mystery. Adventure. And for Scarlett and her beloved sister Tella it represents freedom and an escape from their ruthless, abusive father.

When the sisters' long-awaited invitations to Caraval finally arrive, it seems their dreams have come true. But no sooner have they arrived than Tella vanishes, kidnapped by the show's mastermind organiser, Legend.

Scarlett has been told that everything that happens during Caraval is only an elaborate performance. But nonetheless she quickly becomes enmeshed in a dangerous game of love, magic and heartbreak. And real or not, she must find Tella before the game is over, and her sister disappears forever.

A mesmerising, magical and stunningly imaginative debut novel for anyone who loved The Night Circus and Daughter of Smoke and Bone.
---
Bookhaul: Fairyloot Mystery & Mischief January 2017 there are no words on how beautiful this box is! What's great is that it contained Caraval! Keep watching for my review of Caraval which will be coming out shortly! Sadly my mystery box from Pop-In-A-Box was out of stock so I should be receiving two in February. I have my fingers crossed. Hopefully I'll upload an unboxing of them both on to my very new and shiny YouTube channel. Once I've figured out what I'm doing.
"Every person has the power to change their fate if they are brave enough to fight for what they desire more than anything."
Song of the Month: Ed Sheeran – Castle On The Hill. I just adore anything from Ed Sheeran, his music to me is so very honest and just hits a cord with me. 🙂
Anticipated Movie of February: Fifty Shades Darker. I know I shouldn't but I really looking forward to the second installment of Fifty Shades of Grey. I feel I should re-read the book before I see the movie. What about you? Have you read it? Did you enjoy it or was it not your thing?
So, what did you think? Whatever you think, comment below, let me know! And as always, if you like what you've seen here and you want to see more, click right here to see more!