Goodbye January, Hello February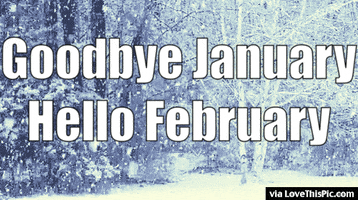 Hey CGBGers! Well this has been a pretty good work week for me. I was awarded the "Rising Star of the Month" which just makes me feel pretty darn good. Especially as I've been a bit down following the holidays. It's truly amazing to be recognised by my colleagues for my hard work. I honestly LOVE my job and I'm so thankful that I am able to do it.
Book-related this week hasn't been too good…I entered my first reading slump of the New Year. Not sure why but it took me forever to read Falling For the Highlander and that's on me not the author. My head obviously wasn't in the right place.
And to follow that theme, I seem to be stressing myself out a bit at the moment with my YouTube Channel which is ready to go! I'm stuck on the editing and I've got my procrastinating pants on!? If you have any helpful tips then I'm all ears! Honestly I need all the help I can get.
ICYM: Previously On CGBG…
Monthly #BookishResloutions: January-17 Ops…I had my dates mixed up, updates aren't until Feb, 29th
FYI: Upcoming On CGBG…
Reviews: TBC
First Chapter First Paragraph Tuesday Intros: TBC
Teaser Tuesday: TBC
Thursday Quotables [46] Feb. 9th
TBR Thursday [46] Feb. 9th
Book Blogger Hop: What is your favorite Valentine's Day read? (submitted by Kristin @ Lukten av Trykksverte)
Feature & Follow: What book do you reread the most? (For people who don't reread, what books have you considered rereading?)
---
Sunday Post is a weekly meme hosted by CaffeinatedBookReviewer
It's a chance to share news ~ A post to recap the past week on your blog and showcase books and things we have received. Share news about what is coming up on our blog for the week ahead.
See rules here: Sunday Post Meme
---
So, Whatever you think, comment below, let me know! And as always, if you like what you've seen here and you want to see more, click right here to see more! 
Twitter | Instagram | Google+ | Blog | Wattpad | Facebook